It is very early in the morning, the alarm clock rings, we are getting up, ready for the adventure – Pacaya volcano hiking. After a while we are ready, waiting for the driver which is not on time. Sun is slowly showing up, kissing us with sun lips.
"Are we going anywhere? I asked Karol. It doesn't seem like this, nobody is showing up. Let's wait a little longer and than we can give up and go to sleep, Karol said."
In the moment when my last hope was sinking in the disgusting morning caffee from the reception desk there, she was, our driver/guide. I like early morning random conversations with absolute strangers, they are pointless but exciting and funny at some point. We are listening to Shakira, local singer number one, I guess. We are passing huge volcano Aqua which is not active for a long time but surely did some serious puffs in the past.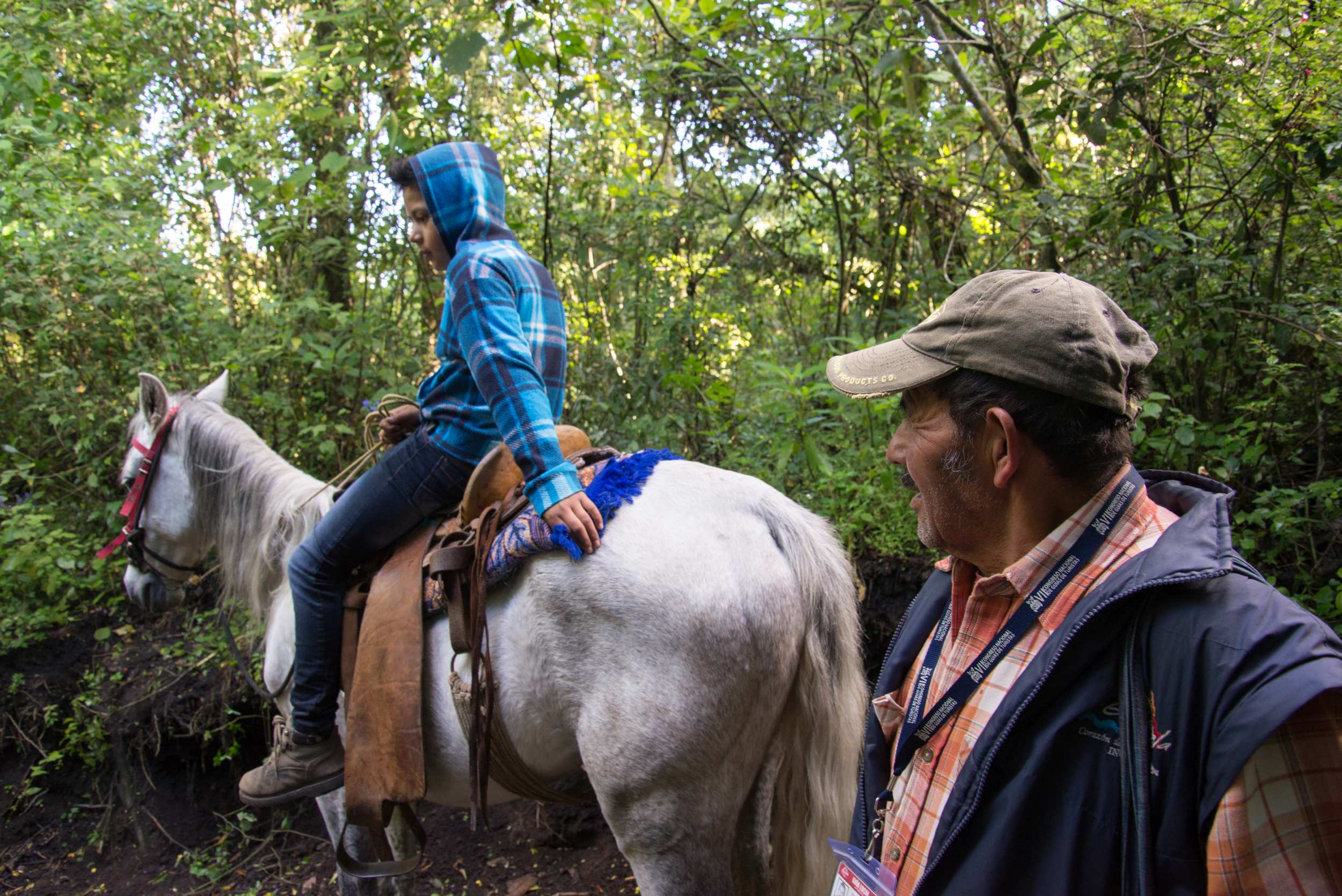 There we are in the village San Vicente Pacaya where the starting point to the volcano is. Maria, our guide (honestly I don't remember her name so I call her Maria, it will be easier) brought us cookies. I thought to myself, is it just a little cheap treat not to look like she is ripping us off for charging two people 100 bucks for this day trip suitable for retired people? I guess yes but it was the only one safe way how to get there considering that looking for somebody else would require dangerous mission to the city Escuintla where you often hear shooting and it doesn't look pretty safe. So I was like "whatever."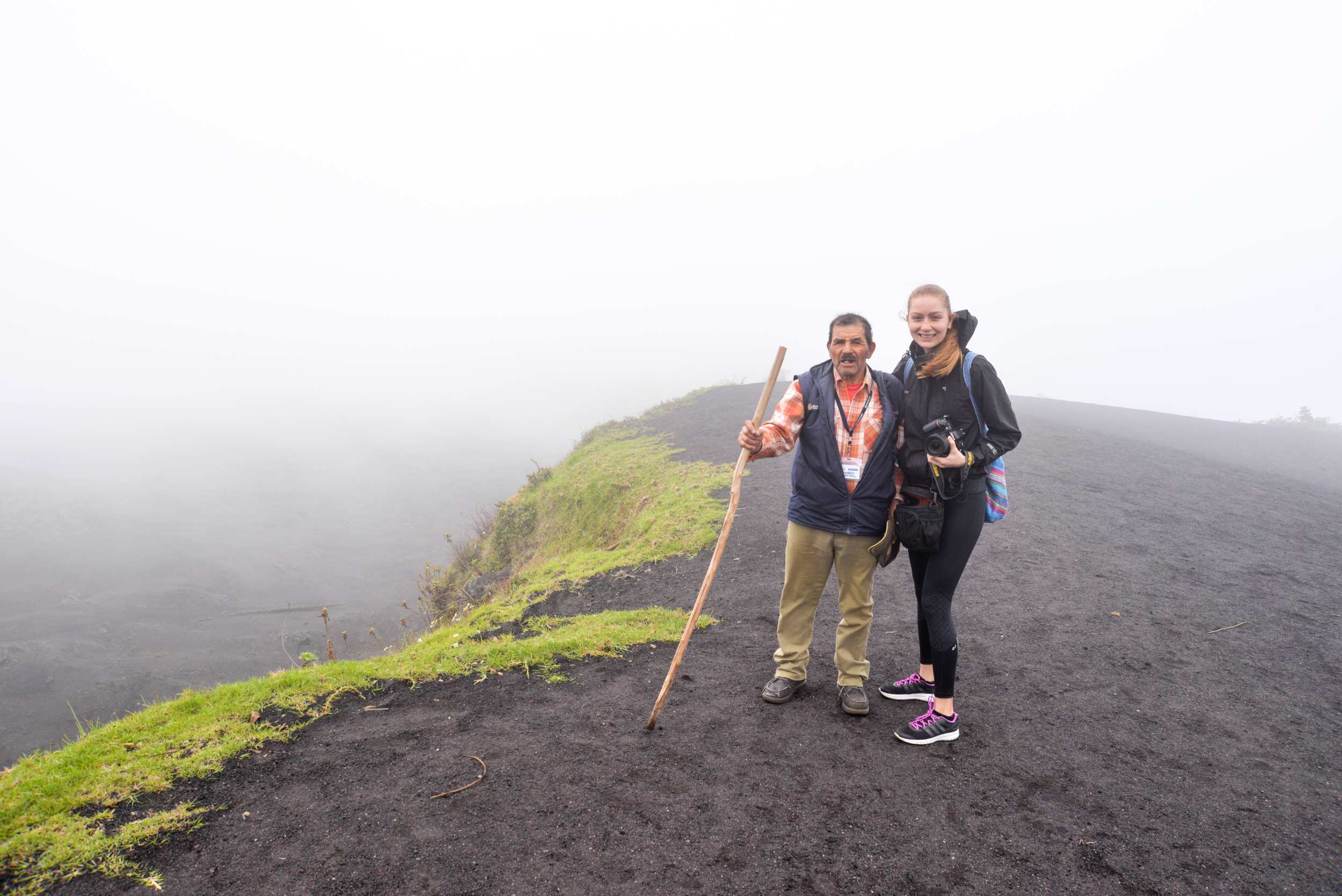 We are meeting our real guide, wondering that our meant to be guide Maria is just our driver, oh now I see. Pepe Chuan our "guia" (guide) is the oldest certified guide in this area, he is more than 80 years old. I am pretty impressed. He didn't speak English (obviously) and he was wearing moccasins. I am still like "whatever," we don't even need a guide but it was required if you don't go with a big group. After the first couple hundreds of meters of climbing is our driver aka guide Maria renting a small horse to take her up. I am so sad number one that they do this to the animal that have problems themselves to get there and number two not mentioned that Maria was not the tiniest person. Still ok, little bit sad. We came to the point where horses are not able to go any further. There is the end of the journey for Maria. No animal abuse anymore.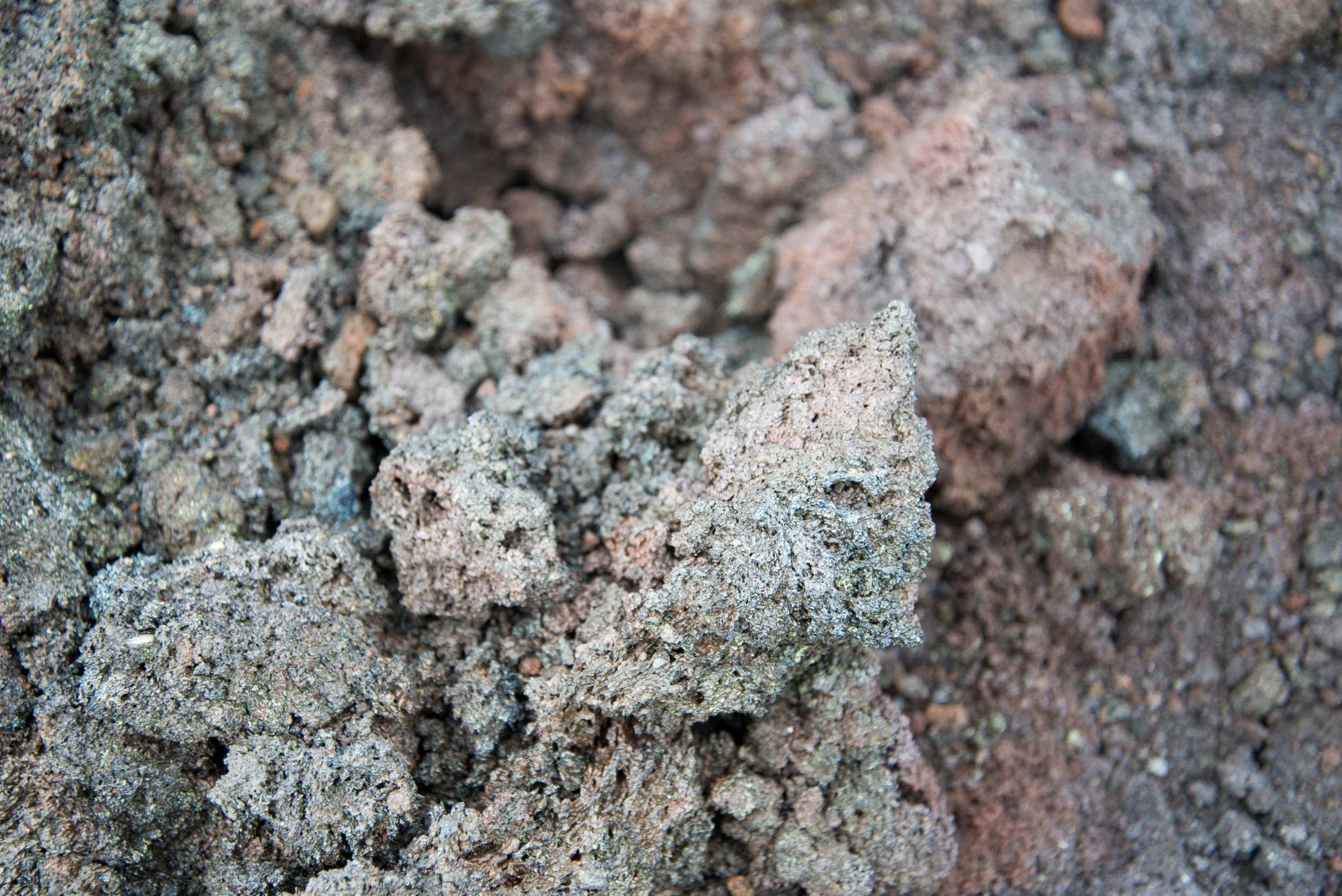 While we are climbing the fog is starting to be stronger. Everything is changing and suddenly it looks like on the moon. There comes the wind. We cannot see anything. We are turning back. Since I was wearing sneakers (the only so-so appropriate shoes I had) Pepe Chuan grab my hand and take me through the ups and downs to get to the safer place. Wind is stopping. Moon planet is amazing, is something I have never seen before. I see how smoke is coming out of the ground, it is everywhere.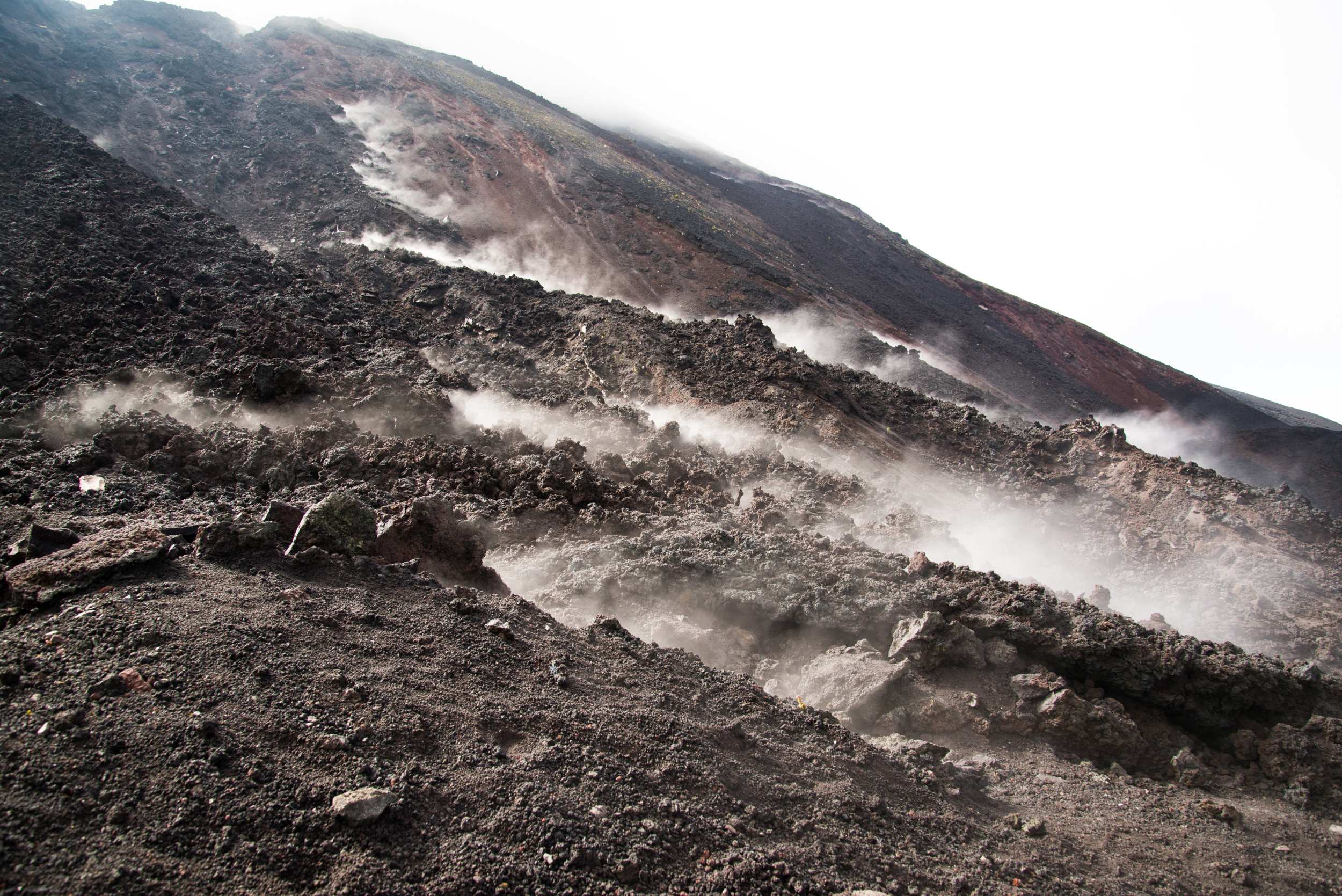 Volcano Pacaya is maybe not the biggest adventure in Guatemala but we had an amazing view of the smoking Fuego volcano which was active that time. Day trip was fully worth it and it was the highlight of this country for me.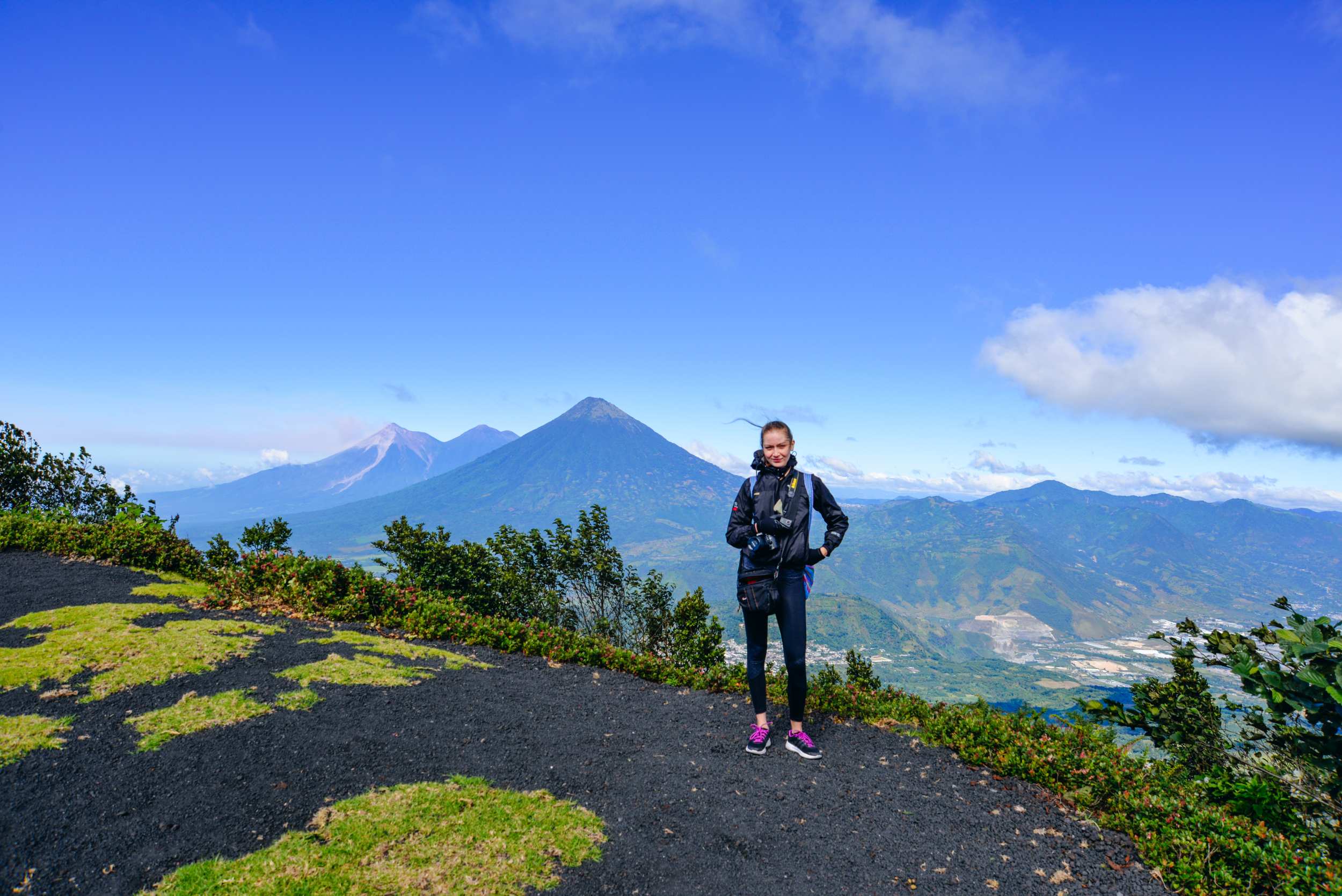 Few facts about the Pacaya volcano
Pacaya volcano rises to an elevation of 2,552 meters above sea level and it is the active volcano.
Last violent eruption was in 1965 and since then it continues to erupt.
Last serious erupt was in 2010.
Pacaya volcano is the most accessible among the others volcanoes in the area.
The entrance fee is 50 Quetzal (around 6 €) and it is recommended to tip the guide.
You won't see flowing lava, since you are not able to submit to the top of the crater of the volcano which is still active.
The whole hike is from the 2/3 forest and then you will see the eruption stones everywhere.
Wear good hiking boots or just some you don't really care about. They will be black.
Best way to get there is to book the trip from Antiqua. It should cost around 12 € per person.